About Us
Trusted by leading organisations to manage their outstanding accounts and collections
Looking to resolve your debt?
Outstanding debts can seriously impact all areas of your business. However poor collection practices and outdated methods put both your reputation and your business at risk.
"Nationwide Building Society has worked with ARC (Europe) Limited for over 10 years. During this time, they have demonstrated a consistent delivery of fair and appropriate outcomes for our members, treating them with empathy and providing them the platform to engage and discuss their circumstances. ARC's flexibility and willingness to do the right thing, moving at speed when needed is one of their most valued qualities."
"ARC (Europe) Limited have been a long term, trusted partner of David Lloyd Clubs. They are a value-based organisation that are passionate in delivering a positive member experience. From our close working relationship, ARC have always understood that our focus is on delivering excellent member experiences throughout the membership journey. Their digital communication channels, flexible payment options and 5-star service achieves regular positive member feedback. This quality of service helps our members achieve sustainable outcomes whilst helping maintain our positive profile within the communities we serve."
Keeping your reputation safe
Working for many clients including leading household names, the one thing they share is a passion about protecting the brand they have built. We are committed to working ethically and professionally to ensure their reputation is protected.
Online Solutions for optimal results
We make the customer journey as simple as possible, to help individuals to quickly resolve their debt. We provide easy-to-use self-service options to help customers manage their accounts in the best way to suit them.
Putting people first
We care about the services we deliver and always ensure that we put people first to protect their wellbeing. Because we know that if we care about our people, they will care about their job and our customers.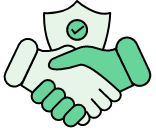 A trusted partner to Financial Services, Health & Leisure, Insurance & Utility businesses
We are proud to have built a solid reputation in the industries we serve. Known for being responsive, agile, and providing results, we help our clients to reduce the specific challenges they face.
We provide peace of mind
Our business is built on providing peace of mind, not just for our clients, ensuring that we will collect their debts, but for our customers too. We know that living with debt isn't easy and we treat our customers with respect, while ensuring we get the best possible outcomes for our clients.
Our mission
To help our clients reduce their outstanding debt
We know that our clients have a range of options in managing their outstanding debt, but they choose to work with us as we have a proven track record in reducing debt levels in a professional way that maintains their reputation.
Since 2001
Experience helping our customers
Located in Walton on Thames
Fully regulated and authorised by the FCA
Endorsed as 5* Service by our clients
Customer and staff wellbeing are our priority
Experience in a number of markets including
Financial Services, Health and Leisure, Insurance, Utilities
Regularly ranked 1st for performance and conduct
NPS score of 85.62% from our customers